Whether you're a first-time buyer or a homeowner looking to move up the housing ladder; here's how the surge in popularity for houses could impact you.
In search of a spacious new home? You're not the only one. Demand for houses has more than doubled as buyers search for more space due to numerous lockdowns.
Family homes are the most sought-after type of property; with the number of buyers looking to snap one up soaring by a whopping 114% compared with levels typically seen at this time of year between 2017 and 2019.
But while demand for all types of houses, from terraced to detached, has more than doubled; the number of buyers looking to purchase a flat has risen by only 34%, according to Zooplas latest House Price Index report.
Why has demand risen?
On the one hand, demand for houses has been rocketed by the stamp duty holiday; with large savings on offer for larger properties (typically houses).
However, the high demand also reflects a surge in buyer interest for more space. The UK lockdowns have made people to reassess their homes and lifestyles. At the same time, the trend for working from home has prompted people to leave city centres in favour of more rural locations; which are more likely to consist of houses rather than flats.
What does this mean for you?
First-time buyers
It could be good news if you're a first-time buyer looking to purchase a flat rather than a house. The cost of flats has risen much more slowly than property values across the wider housing market during the past year.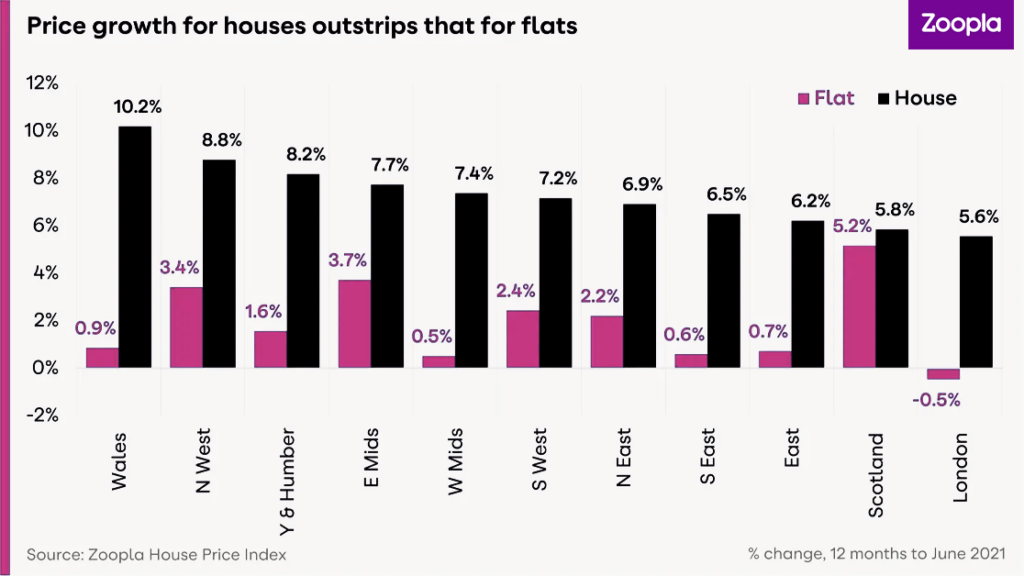 It's worth remembering that there's significant variation across the regions though. Price growth for flats is up 0.6% in the Southeast during the past 12 months, however prices for houses is up 6.5% in the Southeast. If you're a first-time buyer eyeing a house, be prepared to face stiff competition. However, with no property to sell, you have an advantage over buyers in a property chain.
It's important to remember that there are schemes available to help make buying your first home more affordable too; such as first-time buyer stamp duty relief and Help to Buy.
Home-movers
The soaring demand for houses means that if you are planning to sell a property, you could be in a good position to secure a quick sale. You will be more than likely to see it's value rise during the past year too as price growth for houses has been particularly strong.
However, if you are selling a flat, you may find the gap between the value of your current home and the house you want to purchase has widened in recent months.
How can we help you?
Thinking of selling? Our free online valuation tool enables you to find out how much your existing property is likely to be worth, helping you to plan for your next purchase.
Looking for a new home? With competition intense, you can get ahead by registering with our team to receive alerts whenever a property that meets your criteria is listed for sale. Our advanced search tools also help you find properties in your price range and area that are already listed.
Whether you are buying or selling, in the current fast-paced market, we're here to give you some friendly local expert advice, speak to a member of our team today.
Recent Articles